VODKA with a mission
MATERIAL IS AN ORGANIC, USA MADE, NON GMO, GRAIN VODKA WHO'S CORE MISSION IS TO SUPPORT THE ARTS.
The world loves Vodka. But are the suppliers of the world's vodka oriented beyond profits? That's why a small group of friends came together to create a great vodka while also providing support to art and artists who challenge norms and push the conversation forward. The end result is fresh re-invention of what a spirits company should be.
KEEP AN EYE OUT IN 2019 FOR CHEF COLLABORATIONS AND NEW VODKA MERIDIANS.
Material is woven into the framework of the creative community. We our members of our world and we actively support radical change.
10 PERCENT OF ALL PROFITS GO TO SUPPORTING THE ARTS.
Some of the artists and cultural institutions we have worked with include Moma PS1, Guggenheim, Whitney Biennial, RxArt, EckhausLatta, Artist Space, Frieze, BOFFO, Interview Magazine, Black Contemporary Art, N+1,Art Basel.
MATERIAL PRIZE
Every year A no-strings-attached cash prize is awarded to a progressive CREATOR by an independent board of artists and curators.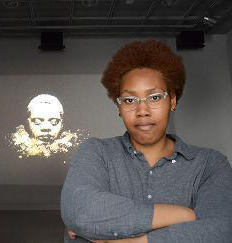 2018 PRize/ Sondra Perry
Sondra Perry is an American media artist. Her work focuses on the interaction between technology and black identity and questions how blackness is represented through modern technology. She has had solo exhibitions at the Kitchen New York, the Seattle Art Museum and Bridget Donahue Gallery New York. Perry was awarded a 2017 Louis Comfort Tiffany Foundation Grant, and the 2017 Gwendolyn Knight and Jacob Lawrence Prize.
2017 PRIZE/ M LAMAR
M Lamar describes himself as a "Negrogothic, devil-worshipping, free black man in the blues tradition." His work merges the genius of his operatic voice with the gospel and blues tradition to explore the radical potentialities of blackness and the mythology of death and resurrection. His practice and persona defy categorization. He straddles in his work a combination of subjects such as the lynching tree, Mapplethorpe's problematic white gaze, the supernatural, Black Lives Matter, and American supremacy. Born in Mobile, Alabama, Lamar draws inspiration from Southern gothic traditions, the solemnity of blues and the political radicalism of punk. Lamar addresses America's history of colonialism and slavery head-on and how it informs gender, class and race in life today. His work is a catharsis, which suggests if we overcome fear we will be ultimately free.
2016 PRIZE/COLIN SELF
Colin Self is an artist currently based in NYC who composes and choreographs music, performance, and environments for expanding consciousness, troubling binaries and boundaries of perception and communication. Working with communities across disciplines and practices, Colin utilizes voice, bodies, and computers to interface with biological and technological software. Self taps in to radical forms of healing as a praxis of collective resistance. His elaborate operas, compositions, and performances are markers of a new generation of musical artists that promises to profoundly shape a bold era of musical expression not only in New York, but further afield.
RECIpes
Material WORKS WITH Arley Mark's of honey's to invent the most tasty recipes. Try a couple and let us know what you think.
MATERIAL GIRL
2oz Material Vodka

.75 oz lime

.5oz calpico concentrate

1oz cranberry juice
Shake with ice and serve over rocks in old fashioned glass, garnish with a fresh mint sprig
MATERIAL GRONI
2oz Material Vodka

1oz Salers (or other bitter Gentian aperitif)

1oz cocchi Americano
Garnish with a grapefruit twist, stir with ice and serve up in a Champagne coup.
MATERIAL HOUND
2oz Material Vodka

.25oz aperol

top with fresh grapefruit juice
Garnish with grapefruit twist and serve in collins glass over ice.
NY
BACARO, NYC
BAR TOTO, NYC
BEVERLY'S NYC
BOTTINO, NYC
BROADWAY SPIRITS, NYC
BRICOLAGE, NYC
BUSTAN, NYC
CAFE CLUNY, NYC
THE COCK, NYC
CHOP SHOP, NYC
CITY WINE, NYC
DIMES, NYC
DOC HOLIDAY'S, NYC
DRAUGHT 55, NYC
DRUNKEN HORSE, NYC
ELVIS GUESTHOUSE, NYC
THE FEDERAL BAR, NYC
GARY'S LIQUOR, NYC
THEGASKINS, GERMANTOWN
HANA WINE & LIQUOR, NYC
HENRIETTA HUDSON, NYC
HEY HEY CANTEEN, NYC
HONEY'S, NYC
HOTEL AMERICANO, NYC
HUCKLEBERRY BAR, NYC
INDOCHINE, NYC
IRISH WHISKEY BAR, NYC
LUCIEN, NYC
L&P WINE AND LIQUOR, NYC
MARCO POLO, NYC
THE MILTON, NYC
MISSION CHINESE FOOD, NYC
NORWIND'S, NYC
OCEAN WINE & SPIRITS, NYC
ONE HOTEL
THE ODEON, NYC
THE PINES LIQUOR, FIRE ISLAND
ROOFTOP 93, NYC
SAGE, NYC
SEA GRAPE WINE & LIQUOR, NYC
SHERRY LEHMANN, NYC
THE STANDARD HIGH LINE, NYC
THE STANDARD EAST VILLAGE, NYC
STONE RIDGE WINE & SPIRITS, STONE RIDGE, NY
SUBWAY INN, NYC
SYNDICATED, NYC
TYGERSHARK, NYC
URBAN WINE, NYC
WISE MEN, NYC
LA
AKBAR, LA
BAR MARMONT, LA
BILL'S LIQUOR, LA
DOUBLETAP, SF
FAULTLINE, LA
GITANE, SF
K&L WINES, LA
THE LASH, LA
MANDRAKE BAR, LA
NEUEHOUSE, LA
REDLINE , LA
ROYAL LIQUOR, LA
SILVERLAKE WINE, LA
SILVERLAKE LIQUOR, LA
TENANTS OF THE TREES, LA
MIAmI
EDITION HOTEL, MIAMI
HOUSTON'S RESTAURANT, MIAMI
SUNSET CORNER LIQUOR, MIAMI